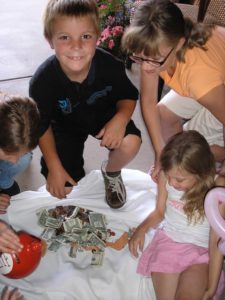 The Lawrence Welk Family Foundation
Bandleader and television personality Lawrence Welk was one of eight children born to German/Russian immigrant parents in North Dakota. While winters were grim and money was tight, the family found joy in singing and dancing together. Lawrence left his family farm in North Dakota on his 21st birthday with an accordion, the clothes on his back, a fourth grade education and command only of the German language. He took his musical talent and joyful spirit with him as he traveled the Midwest playing at barn dances, on local radio and, eventually, in dance halls around the country.  In 1951 KTLA television broadcast his show and the effervescent sound of his "Champagne Music" was heard across the nation, every Saturday night for the next 30 years.
Welk never forgot his humble beginnings, speaking fondly about his family and birthplace, where he said he was taught to work, share and live "according to God's laws." In 1960, the family-oriented bandleader with a penchant for "treating people right" founded the Lawrence Welk Family Foundation. He believed deeply in the importance of a nurturing family and the opportunity for all to live with dignity. In keeping with this, the Lawrence Welk Family Foundation supports grass-roots organizations that demonstrate a long-term commitment to the under served children and families participating in their programs.
Executive Director, Lisa Parker says, "A Step Beyond is the perfect nonprofit partner for us. ASB takes the same love of music and dance that kept our Granddad's feet tapping to ignite the creative spark in its students while, at the same time, demonstrating a long term commitment to supporting them and their families on and off the dance floor. My grandfather really believed in investing in youth so they could prosper as individuals and as future leaders. ASB's programs, administration and leadership are among the most thoughtful and effective we have encountered in our decades of doing this work. I wish my Granddad could see it for himself. I can see the ear to ear smile and twinkle in his eye he would surely have."
The leadership role passed from mother to daughter in 1997 when Welk's granddaughter Lisa Parker took over as President and Executive Director. Today, second and third generations of the Welk family serve on the Board of Directors and the 20 members of the 4th generation are now the Junior Board.  This "G4" Junior Board participates in an annual "philanthropy camp" that includes volunteering and service projects, fundraising, site visits to area nonprofits and grantmaking.
Examples of G4 Projects:
One year the Board offered to match any funds the younger family members aged four to 14 could raise for an air conditioner needed at a therapeutic pre-school for abused and neglected children. The family was together at a family meeting at a San Diego resort at the time, and the members of the fourth generation set out in teams selling Krispy Kreme doughnuts to golfers. The younger family members exceeded their goal of $1,200 which was doubled with the help of the Foundation's matching funds, and were jubilant in their capacity to make a difference. Having a fun but meaningful way of being engaged at such an early age has the capacity to impact many aspects of future philanthropic leadership. In addition to helping to continue the spirit of joyful generosity of the Welk family, a project like this also helps to develop team-building skills and build deeper relationships among cousins who may someday serve as board members.
When one of Welk's grandsons adopted two girls from China, the family members asked the adoption agency what might be done for other children in China. When they learned about a young boy with a cleft palate. Each of the Welk households got mason jars with a picture of the young man on them so they could collect pocket change at the end of each day for the cause. The effort was infectious. Teenage friends of the family were inspired to donate their allowances to the jar. Board members also personally chipped in.
"We came together with much fanfare at the annual meeting and counted all this change," says Lisa.
Ultimately, the family raised more than $7,000–enough to help six additional children.
We have also done beach cleanups, planted organic gardens and built bikes for homeless youth.
Today, three generations of the extended Welk family, ages eleven to eighty-five, give and volunteer together in order to nurture community engagement and the philanthropic spirit across generations and over the course of a lifetime.