Get to know Roxanne: Fun Facts:
What are 5 words that best describe you?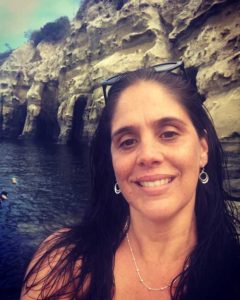 Curious, playful, kind, open and positive
What was the career you dreamed of one day having back when you were a kid?
As a child, I dreamed of being an airline flight attendant because they were always smiling and got to travel the world.
What are you reading right now?
Children of Blood & Bone, by Tomi Adeyemi
What book, movie, or song influenced or inspired you as a youth?
I was very inspired by the flamenco songs I heard growing up in Cadiz, Spain.  Pueblos de la Tierra Mia, by Cameron de la Isla is a beautiful song that captures the vibrant and soulful people of Andalucia. Listening to it transports me through time and space to special time in my life.
What would you choose as your personal theme song?
I'm not sure about that! Too many songs speak to me, depending on my mood.   Most are not even in English.  I enjoy music from around the world and usually connect with the feeling and rhythm over lyrics.
What do you do for fun when you're not at ASB?
I swim in the ocean like a mermaid at La Jolla Cove and Caves. I also love to paddle board and kayak all over Southern California.
What's your favorite style of dance? or who's a favorite choreographer?
My favorite styles of dance are Afro-Cuban, Afro-Brazilian and any other African-American diaspora based dances (ex. Peruvian, Venezuelan, Caribbean…).  All of these dances share the same African roots but have evolved their own unique styles and identities through out the Americas.  My all time favorite choreographer is Alvin Ailey, his brilliance is timeless.
Personal motto?
Motion is lotion & use it or lose it!